By Gerard Knapp
Mark Graham Gunter, June 10, 1974 – November 29, 2015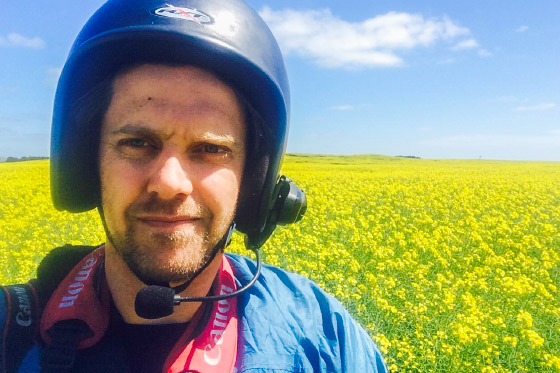 Photographer Mark Gunter captured "the beautiful side", his sister Susan said at the funeral service last Wednesday for the Australian cycling photographer, 41, who passed away late last month after a short and torrid battle with oesophageal cancer that had only been diagnosed four months earlier.
While he became known internationally for his brilliant action photography, especially of road racing, it was his portraits and landscapes that revealed a deeper talent. Mark took photographs that motivated and inspired; images that live in the mind of the viewer and encourage them to get on their bikes and ride.
It also inspired editors and publishers to support his work. Mark's profile of Lance Armstrong graced the cover of David Walsh's 'Seven Deadly Sins', his work on Cyclingnews.com, Ride Cycling Review and Bicycling Australia saw him recognised with the best photo award an unprecedented four times at the annual Cycling Australia awards. His portraits of athletes to journalists routinely rank as each subject's favourite photo.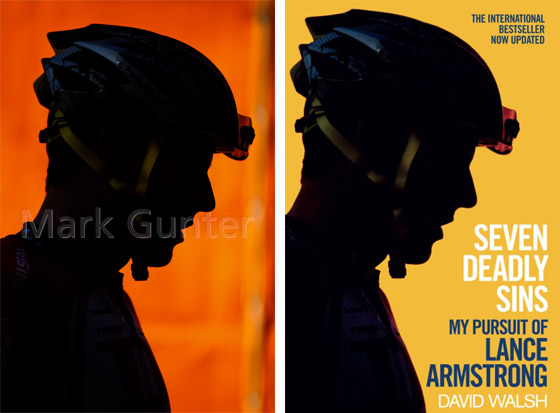 A very rapid ascendancy
Mark came to the global cycling audience via Cyclingnews.com in 2003. At the women's stage race, the Tour de Snowy, based at his home town of Cooma, in the Snowy Mountains of NSW, he met Tom Balks, a New Zealand-born photographer who was covering this race for Cyclingnews. Generously, Tom provided encouragement to Mark and suggested he come to Sydney to help him cover a round of the Track World Cup.
As publisher and proprietor of Cyclingnews at that time, funds were tight and the budget was stretched. Mark happily agreed to shoot for free, to be Tom's assistant and learn from the experience. His work, for a first-timer at track cycling, was excellent. It wasn't long before I was hiring him and paying him. In turn, Mark loved covering road cycling and also track cycling; he was always a pleasure to work with and his calm professionalism and politeness made him a brilliant ambassador for Cyclingnews. In turn, the journalists loved working with him and he became a key part of our coverage team. In 2003, one of his images won one of four best photo awards he secured at the Cycling Australia awards. So began a relationship with Cyclingnews that continued until his untimely death.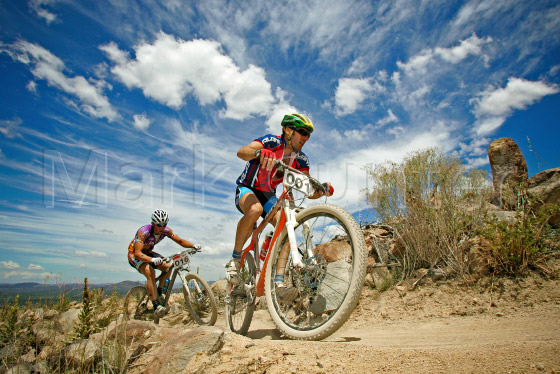 Mt Stromlo Mountain Biking – Winner of the 2007 Cycling Australia Best Photo

Mark's work on CN was noticed by magazine publishers and newspapers; his work was almost always in every issue of Australia's major cycling publications. I believe there is no greater indication of a photographer's perceived ability to be also hired by the legendary news agency, Agence France Presse, and Getty Images. Mark became one of the chosen few working in Australia when fellow photographer, Jamie McDonald, recommended Mark to this prestigious role after he took on a UK posting.
As publisher of CN for eight years, I had the pleasure of sharing the work of some of the great European-based photographers. In the days before live TV pictures were commonplace, the work of the photographers was vital in the growth of the sport. It is my opinion that if Mark had made the move to Europe early in his career he would have succeeded brilliantly, but it was his love of family and home, and his complete lack of ego, that would prevent him from moving overseas until much later in his career.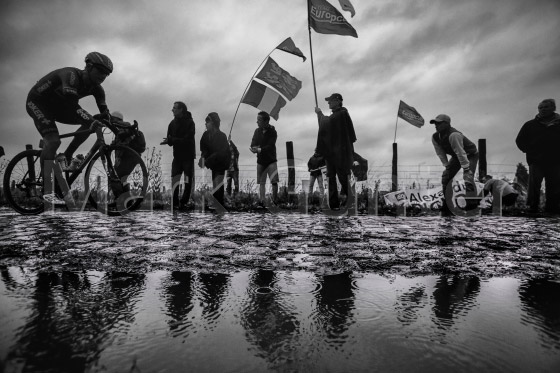 2014 Tour de France Reflections
It is the way of the naturally gifted to make things look easy, to go about their art or profession without fuss while always retaining their politeness and kindness. I think back now and believe it was perhaps this aspect of Mark's personality that may have held him back, somewhat. He preferred to let his work speak for itself, which it invariably did, but photography also had a place in his life, it was balanced with a love of his family and going to back to Cooma to be in the mountains with his friends, skiing in the southern hemisphere winter while also working for the local newspaper, The Cooma-Monaro Express.
Widely travelled
Born to parents Brian and Shirley in Cooma on June 10, 1974, a younger brother to Susan, Mark had not reached his first birthday before he was living overseas. He spent his formative years in Bandung, Indonesia, after his father took a work assignment north of Australia. He attended the International School and spent his weekends with Susan riding bikes and exploring the rice fields and jungles. The family then moved to Kuala Lumpur, Malaysia, where again he attended the International School and discovered his athletic ability as a swimmer.
Apart from living overseas, the family also travelled widely, to locations as diverse as Greece, Egypt, Malawi, Kenya and South Africa. Eventually, the family returned to Cooma where Mark studied at Monaro High School and completed Year 12. Back in the mountains, he quickly took up skiing and was known for his daring attitude to the winter sport. His love of skiing took him to Austria and Canada, where he lived, worked and skied for respective winter seasons, but a career beckoned and it was photography that was his chosen profession.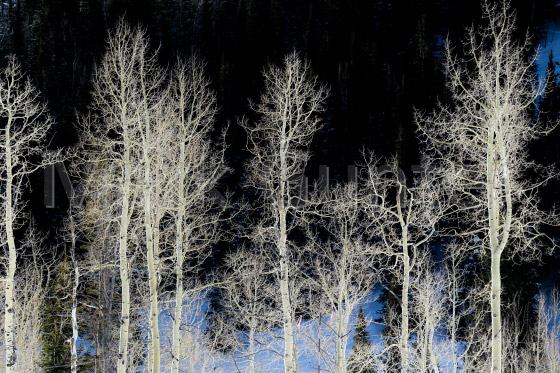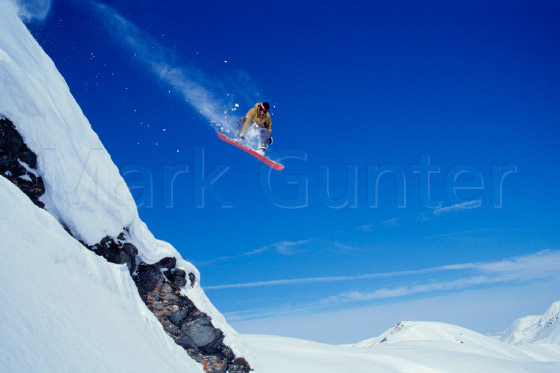 He completed a photography course at the Canberra Institute of Technology in 1991 and by 1992, was working as a ski-fields photographer for Good Times Photography in Perisher Valley in the Snowy Mountains.
He worked a variety of jobs to fund his passion for photography and travel, with particular support from the Frost family that owned Cooma Ski Rentals. His enthusiasm and passion led to a job in the production department at the local newspaper, the Cooma-Monaro Express, where he would go out and shoot anything that was happening in the area, from sport to music festivals to rodeos, Mark was there.
It was here that he encountered a properly organised cycling road race, the women's Tour de Snowy, and this lit the fuse for his love of cycling. He understood the tactics, admired the athleticism and recorded the drama and beauty through his lens. And the big bonus was that cycling, by its very nature, also involved travel.
Given his extensive travel as a toddler and youth, Mark would readily take an overseas assignment, especially in Asia. One such assignment was China's ground-breaking Tour of Qinghai Lake, where he captured one of the most dramatic road racing sequences ever published; that of Merida rider Kui Song becoming trapped under his team car (the rider survived). It was at Qinghai Lake that Mark showed his incredible robustness; his moto rider slammed into the back of a team car and Mark went straight through the rear window of a team car, taking out the rear window completely. Mark relayed the incident to me – he was covering the race for CN at the time – with such nonchalance it was astounding.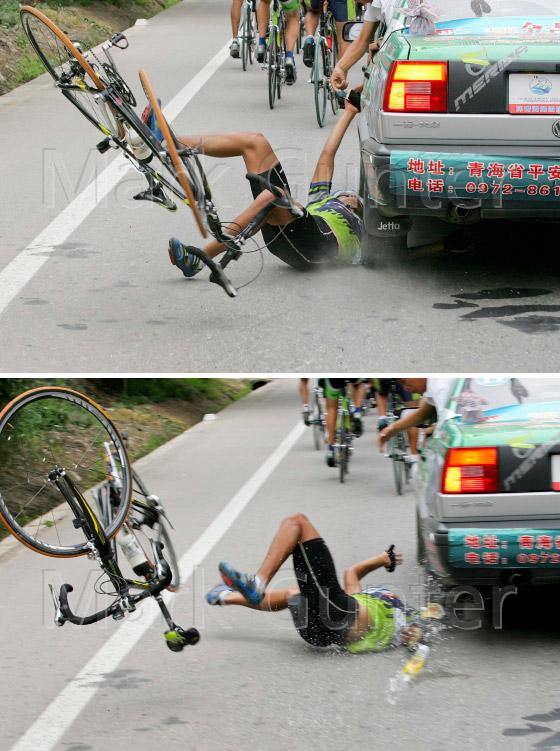 2006 Tour of Qinghai Lake crash
It was in 2010 that saw the most significant development in Mark's life and career, when he fell in love with Leeanne Gatien, a Sydney-based senior marketing executive who saw pure talent and kindness from one of nature's gentlemen. At the same time, he also needed a proper website, a logo and some old-fashioned marketing spin. Leeanne was not only his gal, but his assistant and business manager. They complemented each other perfectly; Mark the free-spirit and adventurous traveller, Leeanne the corporate whizz who was swept up into this world of professional sport, accompanying Mark when she could. Mark's popularity meant Leeanne was equally welcome into the media centres of the big bike races. On Leeanne's insistence, Mark finally took the plunge and headed over to Europe for most of the summer.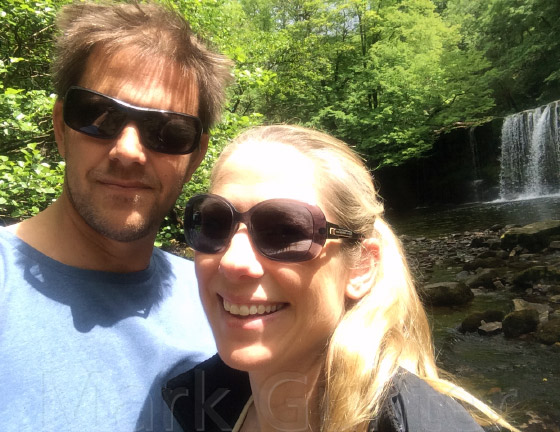 It was 2011; they chose wisely. Mark accompanied the journalists, his good friend Anthony Tan and American Gregor Brown, on a memorable Tour de France, won by fellow Australian Cadel Evans. His work was widely published and applauded; he held an exhibition, 'Cadel 24/7' when back in Sydney to wide acclaim.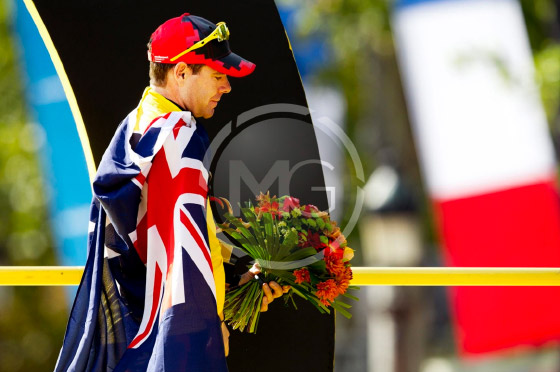 Cadel Evans wins the 2011 Tour de France – Cadel 24/7 Exhibition
Life continued to improve for Mark. He and Leeanne were married on October 19, 2013, in what they called "the year of living", where travel, trekking and cycling dominated. On August 26, 2014, their son Lucas was born. Such was his love of his family; Mark put his photography career on a temporary hold after Leeanne secured a senior role in New York City. Mark became "a fulltime dad". He was in his element; Mark, the constant unobtrusive observer was able to wander the streets of one of the world's great cities, camera in one hand and "his little mate" in tow. They charmed New Yorkers wherever they went, Leeanne said.
However, the strapping tall man with the broad shoulders that would never bow no matter what the circumstances – or load of camera gear, Mark never seemed to slow down even with multiple camera bodies and enormous lenses swinging from his body – began to lose weight. He would joke with his good friend, Anthony, when he visited him in NYC earlier in the year that he was almost the same weight as the Australian professional cyclist, Adam Hansen, someone who shared Mark's carefree outlook on life, and was as popular in the peloton as Mark was with his peers in the cycling media. (As a child, Mark was a competitive swimmer and represented his state at numerous carnivals.)
However, Leeanne suspected something wasn't right and after some tests, the diagnosis was devastating; oesophageal cancer, at a highly advanced stage, and with a four percent chance of survival.
Given that this aggressive form of cancer usually hits men well past their sixties, many held out it would not be terminal. If love and support counted for anything, Mark was in with a good shout. His father, Brian recalled how his son had called from New York to tell him and his wife Shirley, the news. He said it was indication of his son's compassion that he then called back, one hour later, to ask how they were dealing with it and to reassure them they were coming home.
They returned to Sydney in August and underwent treatment. Mark underwent the full force of these chemical sledgehammers without complaint. He tried to stay upbeat and then by October 26 there was some positive news, the tumours in his brain had almost gone (it was only later that another MRI revealed the cancer had spread to his spine). Mark and Leeanne then went to Cooma to visit friends and family, but within a fortnight he became very weak. It was a brief respite. Mark's condition rapidly deteriorated and he was re-admitted to Royal North Shore Hospital, Sydney. His earlier improvement and cause for optimism had been a false dawn; the doctors were helpless to stop its advance.
Mark returned to the home of Leeanne's parents, Peter and Stephanie Gatien, where he was surrounded by those who loved him. His parents Brian and Shirley left their home in Narooma on the NSW south coast to stay in Sydney and be near their son. Mark fought for longer than what many thought he should, or could, and then passed away at 6.20pm on Sunday, November 29, 2015.
Mark was 41. He leaves his wife Leeanne, and their son, Lucas, 15 months.
His funeral service at the Northern Suburbs Crematorium on December 9, 2015, was attended by his family and friends and many in the cycling community, with the mourners standing and spilling outside the chapel. A webcast of the service is available.
Leeanne wants to thank the staff from Royal North Shore hospital and is a strong supporter of scientific research into cancer treatment. There is a donations page for Mark on the Tour de Cure web site. They also support 'SNOG', the Sydney Neuro-Oncology Group.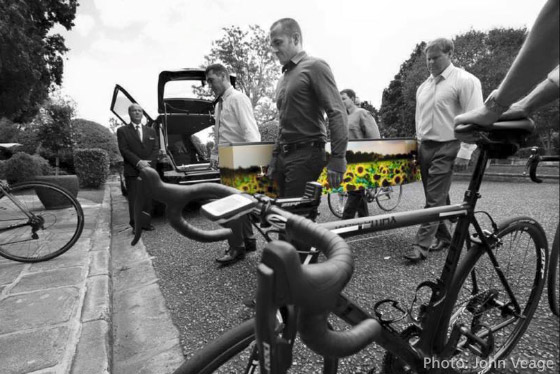 Mark's Light – funeral service in Sydney [Photo: John Veage]
What Mark meant to cycling
Among his peers, Mark was universally liked and admired, in almost unrivalled fashion. He went about his work without fuss, pretention or stress. It was not in his nature to be unkind or unfriendly. His loss has been deeply felt within the Australian and global cycling community. We need our artisans to prosper; it is their work which reminds us of why we love what we do, and remind us to stay positive towards cycling in the face of a sometimes unrelenting barrage of self-inflicted harm and intolerance.
Cadel Evans at the Giro d'Italia
The images remind us that we ride not because we can 'lose 10kg in four weeks' or other motivational trickery; no, we ride because we can experience beauty, life and the world around us. Mark's work showed that. We ride to explore the world and ourselves, forge friendships and burn memories into our psyche through those experiences. That is Mark's legacy, a stunning catalogue of images that showed what cycling really is, what it can do for us, the people we will meet and places we will see. Perhaps there is no greater legacy than to leave behind images that have that special power.